Troy Spaulding of Swanton Rexall is the 2021 Vermont Bowl of Hygeia Recipient!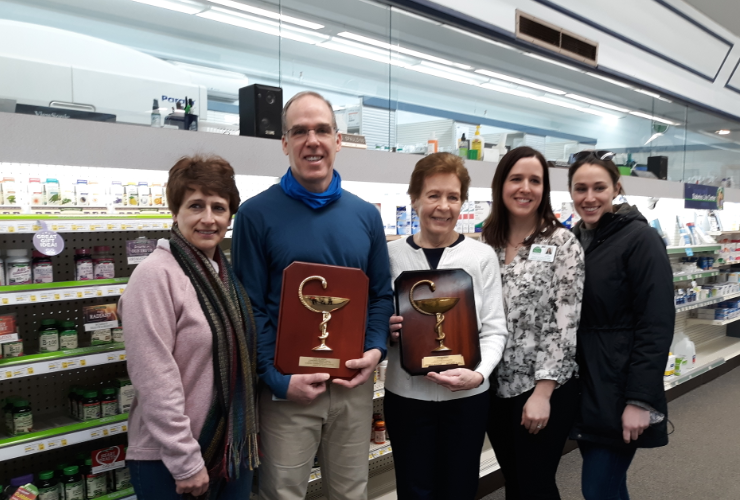 Established in 1958, the Bowl of Hygeia Award recognizes pharmacists who possess outstanding records of civic leadership in their communities and encourages pharmacists to take active roles in their communities. The award is presented annually by participating state pharmacy associations, including those in the District of Columbia and Puerto Rico. In addition to service through their local, state, and national pharmacy associations, award recipients devote their time, talent, and resources to a wide variety of causes and community service.
Troy Spaulding, of Swanton is the 2021 Vermont Bowl of Hygeia recipient. Troy is deeply rooted in Swanton, where he has served the community on the School Board while attending to community needs as owner of Swanton Rexall (Now a part of NOTCH) Humble and unassuming, Troy dismisses his participation as something he has always done. He comes from a long line of pharmacists. His father, Dexter Spaulding, received the Bowl of Hygeia 50 years ago and perhaps one day, his daughter, Olivia Spaulding Sprague (Now PIC at the St. Albans Pharmacy) will follow in the family tradition of community service.
Congratulations to Troy and his family on this great honor!
Have you gotten robocalls, text messages, or emails offering COVID-19 tests in exchange for your Medicare Number? Be careful! Scammers are selling fake and unauthorized at-home COVID-19 test kits in exchange for your personal or medical information. Do not give out your Medicare Number for COVID-19 test kits!
Make sure to purchase FDA-approved COVID-19 test kits from legitimate providers. Over-the-counter or at-home tests are available for sale around the U.S. at many reputable and trustworthy retailers and pharmacies
Remember, each household in the U.S. can also have four free COVID-19 at-home tests shipped directly to their home at no cost. Visit COVIDtests.gov to order tests or learn more about testing.
If you suspect fraud, call 1-800-MEDICARE to report it.
NOTCH Opens St. Albans Pharmacy!
NOTCH is excited to expand access to pharmacy services in Franklin County!  NOTCH St. Albans Pharmacy is co-located at our St. Albans Health Center Location  Doctors Office Commons, 3 Crest Road, St. Albans, VT
Hours of Operation and Contact: 
Monday – Friday 8:30 AM to 5:30 PM
Phone: 802-527-6700
Fax:  802-341-3099
Covid-19 Immunizations and Booster Shots at NOTCH
Following guidance form the Vermont Department of Health and Centers for Disease Control & Prevention, the following people are now eligible to receive a COVID-19 Booster Shot at any NOTCH Location:
People with moderately to severely compromised immune systems who received either the Pfizer or Moderna mRNA Covid-19 Vaccine
People who are 65 or older who received the second dose of the Pfizer vaccine at least 6 months ago.
At this time booster shots have not been approved for people who received the Moderna or Johnson & Johnson vaccines.
If you are interested in getting a COVID-19 Vaccine, or if you have questions about the COVID-19 Vaccine – call your NOTCH Location to schedule an appointment!
Get your Flu Vaccine
Flu vaccines are now available at all NOTCH Locations!
The Vermont Department of Health encourages all Vermonters age six months and older, and those at high risk of complications from the flu to get vaccinated.
Call any NOTCH Location to schedule an appointment!
October is Breast Cancer Awareness Month
Breast cancer is the most common cancer in American women, except for skin cancers. It is estimated that in 2021, approximately 30% of all new women cancer diagnoses will be breast cancer. Screening tests are used to find cancer before a person has any symptoms.
The American Cancer Society Recommends the following Breast Cancer Screening Schedule:
Women ages 40 to 44 should have the choice to start annual breast cancer screening with mammograms (x-rays of the breast) if they wish to do so.
Women age 45 to 54 should get mammograms every year.
Women 55 and older should switch to mammograms every 2 years, or can continue yearly screening.
Screening should continue as long as a woman is in good health and is expected to live 10 more years or longer
Contact your Provider to discuss your breast cancer screening options!